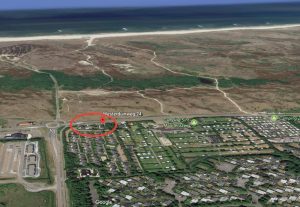 HOLIDAY HOUSES IN SINT-MAARTENSZEE
Sint-Maartenszee is attractive in all seasons!
If you like the peace and quiet of nature, or if you prefer an active holiday on the beach, Sint-Maartenszee is the place to be! Pieter Houdewind offers holiday-villas and bungalows in an A1 location in Sint-Maartenszee.
The houses are situated right opposite the entrance to the beach of Sint-Maartenszee. This Google Earth picture shows you  the path that leads to the beach, the dunes and the North Sea, and within the red circle, you find the four holiday-houses.
De Roerdomp (which provides accommodation for four people);
De Meeuw (accommodation for six)
De Karekiet (luxury accommodation for 6-8 people)
De Duinrand (luxury accommodation for 8)
If you touch the name of the above houses you will be given more details.
If you need additional information, you can contact me.
Holiday greetings from, Maria & Pieter Houdewind